Back to Home > Programme
Download the full program (PDF file) here.
Wednesday, 30 August 2023
8:30 am – 9:00 am
Entrance Porch
PhD Workshop registration
9:00 am – 2:00 pm
Mollino Room
PhD Workshop
2:00 pm – 4:00 pm
Entrance Porch
Conference Registration
3:00 pm – 3:30 pm
Walking tour of Valentino Castle (free participation)
4:00 pm – 4:45 pm
Great Salon
Introduction and Welcome
Oya Atalay Franck, EAAE President
Paolo Mellano, DAD Head of Department
Ilaria Ariolfo, Representative of the Chambers of Architects of the Torino's Province (OAT)
4:45 pm – 5:00 pm
Great Salon
Young Talent Architecture Award 2023 presentation
Ivan Blasi, Fundació Mies van Der Rohe
5:00 pm – 6:30 pm
Great Salon
Opening Keynote Speech by Fosbury Architecture
6:30 pm – 8:00 pm
Hall of columns
Opening Reception
Thursday, 31 August 2023
9:30 am – 11:00 am






Parallel sessions R.1
ROOM 5V






Roots of architecture(s): Ways of research


CHAIRED by






Dubravko Bacic
Topological deformability in architecture, or how to learn about differences | Dragišić M.
The Complexity and Contradiction Conflict in Research and Practice: The Case of Public-Private Interface Configuration | Jahodová Š.
Research for an architect as a specialized citizen | Yücel S.
The Positionality and the Promise of Architecture(s) | Wu H.
Design process innovation against the epistemicide | Munoz Veloza M.
Practicing care through architecture: participatory research as a tool to subvert power relations | Bertolino N.
Research by Design at the Crossroads of Architecture and Visual Arts: Exploring the Epistemological Reconfigurations | Charitonidou M.
Inter-scalar and inter-disciplinary approaches for a valley community. The case of Sappada | Massarente A., Guidetti E., Tessari A.
9:30 am – 11:00 am






Parallel sessions R.2
ROOM 6V






Roots of architecture(s): Ways of research


CHAIRED by






Thomas Vonier
The power of an architect's competences in interdisciplinary research: the case of the Belgian-Tanzanian IUC partnership | Hannes E., Cuyvers R.
Mental Spaces /Real Spaces – A Digital Archive On researching and reimagining immaterial forms of architecture | Sol L.
Architectural design studio: Embracing a transdisciplinary approach | Panayi C., Roussou E., Charalambous N.
What can architecture do? | Béatrice M.
Research on the spatial perception and preferences of traditional villages from the perspective of local gaze: a case study of Hongkeng Village, China | Wei X., Zhou H.
Action based research for capacity building of neighbourhood communities | Marin V., Calciu D., Paval O.
Action research and commoning: positioning architectural research in (or with) local grassroot group | Ahmed T., Delsante I.
Regenerating public housing in Italy within the Next Generation EU fund. Learnings from a research-by- design experience in Bergamo | Lepratto F., Miglierina G.
Mountains in motion, visions in nutshells | Tognon A.
Who is in?: More-than-living constituents of the architecture studio | Büyüktopcu E., Şentürer A.
11:00 am – 11:30 am
Hall of Columns
Coffee break
11:30 am – 1:00 pm






Parallel sessions T.1
ROOM 5V






Seeds of architecture(s): Ways of teaching


CHAIRED by






Mo Zell
How to tackle the crisis in architectural education: Truth or Dare? | Çağlar Tünür H., İnalhan G.
A Cosmopolitan Architectural Education | Santanicchia M.
Teaching architecture in the age of a fragile humanity | Frattari C.
Bridging methods and disciplines: an Architectural Pedagogy for Rural Areas Communities | Sartorio S.
Architectural thresholds: critical theory as soglia in teaching architecture | Boano C.
Ethnographic Ways of Architectural Knowing: A Pre-design Pedagogy for Radical Inclusion | Pandya S.
Challenging the Master: Lessons from Rethinking The Crit | Flynn P.
11:30 am – 1:00 pm






Parallel sessions T.2
ROOM 6V






Seeds of architecture(s): Ways of teaching


CHAIRED by






Michael Monti
The merit of teaching introductory architecture courses in general education | Suzuki A.
Inclusive and Generative Possibilities of Precedent Analysis in Architectural Education | Çınar S.
The Necessity of Big Beautiful Mistakes | Rødne G., Gullberg J.
Pedagogical consequences and potentials of a Design Built Studio Program | Inceoglu A.
Socially situated pedagogies as a strategy to innovate architectural curricula: the case study of SArPe and its first experimentation at the University of Pavia | Delsante I., Ahmed T., Duse M., Migliavacca L.
Modus Operandi: Continuously Transforming And Renewing Action In Architectural Design Studio | Küçük İ., Aksu A.
Studio Life: mechanisms of competition and collaboration in the architectural labour process | De Lima Amaral C.V.
1:00 pm – 2:00 pm
Lunch break
2:00 pm – 3:00 pm
Great Salon
Keynote Speech by Paesaggi Sensibili
3:00 pm – 4:30 pm






Parallel sessions T.3
ROOM 5V






Seeds of architecture(s): Ways of teaching


CHAIRED by






Adil Sharag-Eldin
Means-oriented or goal-oriented architecture education? | Ali K. A.
A laboratory of pedagogical experiments: architecture through the body | Collevecchio C.
Transformations of public spaces – sustainable and ethical approach to architectural and urban design using mixed cultural background | Haupt P., Twardowski M., Fabris L. M., Semprebon G., Balzarotti R. M., Ros Campos A., Gisbert j. L., Verdejo Guimeno P.
Stumbling as a praxis of design practice: a pedagogical experiment in "Theory and Critic of Architectural Action" | Quaglio C., Bruno, E.
Why to (Not) Demolish a Building. A Experimental Teaching Approach to Question Demolition in Architecture | Concheiro I.
A new approach to teaching architectural and urban design: Reformulation of city spaces with virtual tools and long-distance influences | Stachura E., Bar-Eli A.
Affirmation of a discipline: ephemeral tectonics of an architecture lesson | Justić S.
Minds, Machines, and the Future of Design: Rethinking Architectural Education in the Age of AI | M. El Moussaoui
3:00 pm – 4:30 pm






Parallel sessions P.1
ROOM 6V






Branches of architecture(s): Ways of Practice


CHAIRED by






OĬga Miháliková
Aligning the pedagogy of postgraduate professional practice courses to develop the meta-competencies required of Architects today | Brown Molloy C., Mullally C.
Participation of stakeholders in open architectural and urban planning competitions: procedure model and application in Croatian context | Rene L., Careva K.
II level training and construction of scientific and didactic contents: The case of the "Master Executive: Mountain Able. Planning and Design for the sustainable development of the mountain" | Corradi E.
The Glass House Revisited | Kousidi S.
Architectural Practice in the Digital Age: Balancing Adoption and Adaptation | Mance D.
DESIGN INSTITUTES & DESIGN STUDIOS. Cases of permeability between teaching and practice (including research) | Trisciuoglio M., Bao L.
Friday, 1st September 2023
9:00 am – 10:00 am
Great Salon
PhD Workshop discussion
10:00 am – 10:30 am
Hall of Columns
Coffee break
10:30 am – 10:45 am
Hall of Columns
D/A Daylight and Architecture
Tina Christensen, Velux
10:45 am – 11:45 am
Great Salon
Closing Keynote Speech by False Mirror Office
11:45 am – 12:30 pm
Great Salon
Final roundtable discussion
Dubravko Bacic, member of the ACE Executive Board (Architects' Council of Europe)
Thomas Vonier, ex UIA President (International Union of Architects)
Mo Zell, ACSA President (Association of Collegiate Schools of Architecture)
Michael Monti, ACSA Executive Director (Association of Collegiate Schools of Architecture)
Adil Sharag-Eldin, ARCC President (Architectural Research Centers Consortium)
Oľga Miháliková, ENACA Chair (European Network of Architects Competent Authorities)
Oya Atalay Franck, EAAE President
12:30 pm – 1:00 am
Great Salon
Closing ceremony
Anita Tabacco, Vice Rector for Education of the Politecnico di Torino
Oya Atalay Franck, EAAE President
1:00 pm – 2:00 pm
Lunch break
2:00 pm – 5:00 pm
ROOM 7V
EAAE General Assembly
(For EAAE members only)
Free evening for participants
Saturday, 2nd September 2023
10:00 am – 4:00 pm
All-day excursion
Ivrea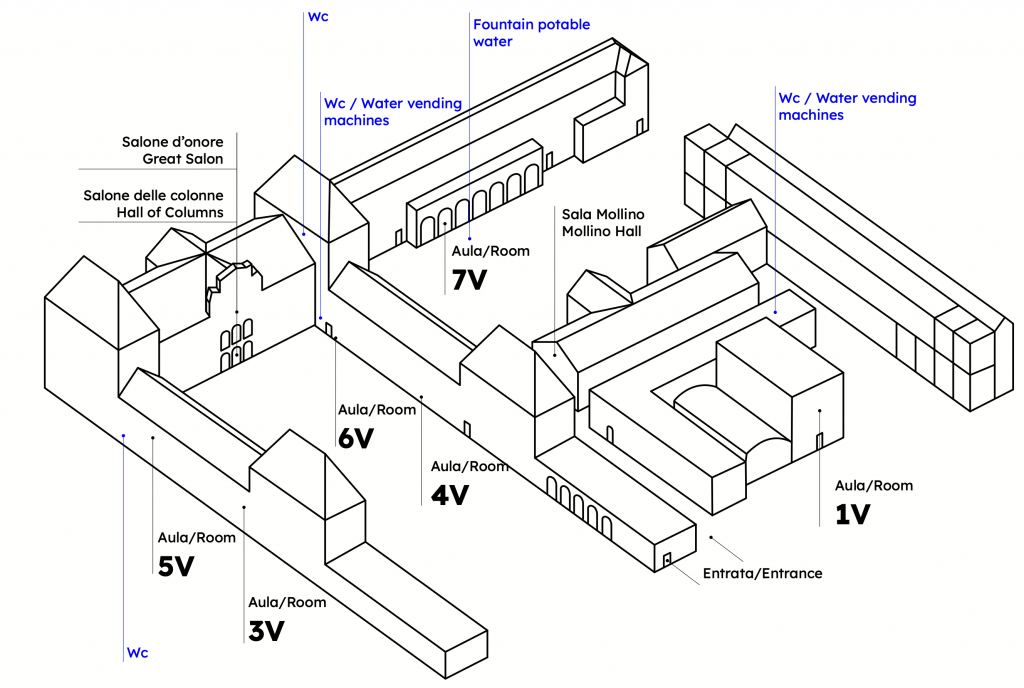 Download the full program (PDF file) here.